Today at the newspaper of Bangladesh Jugantor published the new job circular of Bangladesh Customs Job Circular 2022 বাংলাদেশ কাস্টমস-এ নতুন নিয়োগ বিজ্ঞপ্তি প্রকাশ on 11th April 2022 at the official website of www.vatdhakawest.gov.bd. The application of the circular of the Bangladesh Customs Job Circular and Results last date is 10th May 2022. Notice and details are given below. Go to our website at bestbdjob.com to get regular job news.
Bangladesh Customs Job Circular 2022
This is The official circular of the government-authorized department Customs, vat excise and compassionate 2022, announced the job announcement in several posts Today. The notice will continue in 10th May 2022, 2022. The job of Bangladesh Customs and vat commiseration is a very good career and it is government jobs. To get more updates news just visit here at www.bestbdjob.com.
Essential Information For Applicants To Apply
Applicants must submit online application form and fill all the requirements and send application through post office in their due time. They will pay for the test fee 112TK. The application's specific deadline is 10th and 17th MAY 2022. Otherwise it will not be submitted. After successfully applying the work, take part in the exam. And they have to choose the result of the test. Terms and Notification files will be available. Stay connected to our website at www.bestbdjob.com to get news of such a Gov job news regularly.
Customs Excise & VAT Commissionerate Khulna Job Circular May 2022
Source: Prothom Alo, 29th May 2022
Application Deadline: 21st June 2022
Apply Online: khulnavat.teletalk.com.bd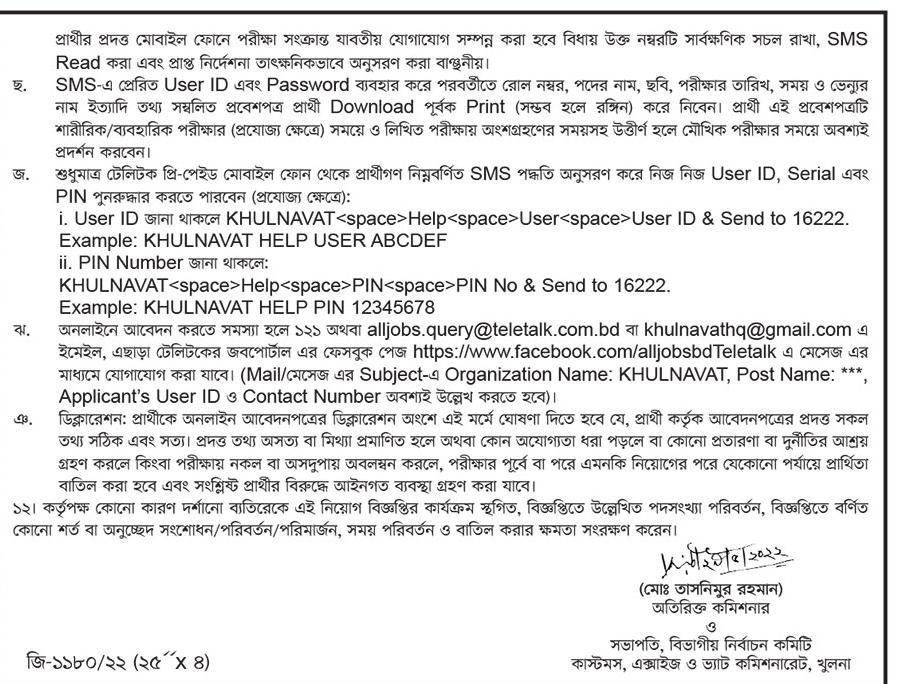 Customs, Excise & VAT Commissionerate, Khulna (khulnaVAT) Job Circular 2022
আবেদন শুরুর তারিখ: 1st June

, 2022

আবেদনের শেষ তারিখ: 21st JUNE

, 2022

অবস্থা:

চলমান

বিজ্ঞপ্তির নং:

08.01.8500.202.11.001.21/1019

আবেদনের ওয়েব লিংক: http://khulnavat.teletalk.com.bd
Application Terms for Applicants:
Educational Qualification: See Notice for various posts demand.
The application process begins: 1st June, 2022.
Application Deadline: 21st June 2022 at 6.00Pm.
Vacancy available: Follow the Circular.
Limit of Age: From August 2022, the minimum is 18 to 32 years old.
Salary per month: See Notice
Fees of Application: Follow Circular.
Job type: Government job
Official Website
Click here to download the application form: Apply online.
প্রতিষ্ঠানের তথ্য
প্রতিষ্ঠানের নাম: Customs, Excise & VAT Commissionerate, Rangpur (RANGPURVAT)
বিস্তারিত দেখুন: অভ্যন্তরীণ সম্পদ বিভাগের আদেশ নম্বর- ০৮.০০৩.০২১.০১.০০.০৩৫.২০০৯ (অংশ-১)/৫৪০, তারিখ : ২৫.০৮.২০১১ খ্রিঃ, জাতীয় রাজস্ব বোর্ডের আদেশ নথি নম্বর- ১(১২)শুঃ ভঃ প্রঃ-২/২০০৮(অংশ-)/৩৭৩ (২), তারিখ : ২৩.১০.২০১১ খ্রিঃ এবং জাতীয় রাজস্ব বোর্ডের অপর আদেশ নথি নম্বর- ১(১২)শুঃ ভঃ প্রঃ-২/২০০৮(অংশ-)/৩৭৪(২), তারিখ : ২৩.১০.২০১১ খ্রিঃ এর মাধ্যমে কাস্টমস, এক্সাইজ ও ভ্যাট কমিশনারেট, রাজশাহীকে পুনর্গঠন করে কাস্টমস, এক্সাইজ ও ভ্যাট কমিশনারেট, রংপুর নামে একটি নতুন কমিশনারেট গঠিত হয়। রংপুর প্রশাসনিক বিভাগের আওতাভুক্ত ৮টি জেলা যথা- রংপুর, দিনাজপুর, কুড়িগ্রাম, লালমনরিহাট, গাইবান্ধা, নীলফামারী, ঠাকুরগাঁও এবং পঞ্চগড় এ কমিশনারেটের অধক্ষিত্রেভুক্ত। https://www.rangpurvat.gov.bd/
Conclusion
Stay with us on regular pages like government jobs and share your post with your timeline. You can comment on our Facebook page www.facebook.com/dailybestjob or contact us directly through our facebook page. Thanks for reading our content. For more information on Bangladesh Customs Job Notification and 2022 results, please contact us on our Facebook page or comment below for more information.