NTRCA 4th Gono Biggopti E-Application Online 2021 – ngi.teletalk.com.bd – 4th Public Circular
NTRCA 4th Gono Biggopti E-Application Online 2021 – ngi.teletalk.com.bd. We are very glad to announce that NTRCA will released the 4th public recruitment notice for 54,304 vacancy very soon. So, After a long wait of two years, a public notice has been issued for the third phase of recruitment of 54,304 teachers in non-govt educational institutions. The online application for this appointment will start on 4th November and will continue till December 2021.
You can get everything about NTRCA 4th Gono Biggopti 2021, NGI 4th Public Notice 2021, NTRCA Gono Biggopti 2021, http://ngi.teletalk.com.bd/ 4th Gono Biggopti Apply Online 2021, NTRCA NGI Teletalk Apply 2021, NTRCA 4th Merit List Recruitment Related Notice 2021, NTRCA e-Application 2021, 1 To 16th NTRCA e-Application 2021, NTRCA 4th Public Recruitment Notice 2021.
NTRCA 4th Gono Biggopti E-Application Online 2021 – ngi.teletalk.com.bd
A circular signed by NTRCA member ABM Shawkat Iqbal Shaheen said that a public notice has issued in the third phase for the recruitment of 54,304 teachers in all private educational institutions (schools, colleges, madrasas, technical and business management). Interested candidates have to apply online from November 4 to December 30.
আসছে চতুর্থ গণবিজ্ঞপ্তি, নিয়োগ হবে ৫০ হাজার শিক্ষকঃ
মামলা জটিলতায় পড়ে দুই বছরেরও অধিক সময় পর তৃতীয় গণবিজ্ঞপ্তির প্রায় ৫৪ হাজার শিক্ষক নিয়োগের চূড়ান্ত ফলাফল দিয়েছে বেসরকারি শিক্ষক নিবন্ধন ও প্রত্যয়ন কর্তৃপক্ষ (এনটিআরসিএ)। এবার চতুর্থ গণবিজ্ঞপ্তিতে আরো ৫০ হাজার শিক্ষক নিয়োগ দেওয়ার উদ্যোগ নিয়েছে সংস্থাটি। তবে এ সংখ্যা আরো বাড়তে পারে।

বঙ্গবন্ধু শেখ মুজিবুর রহমানের জন্মশতবার্ষিকী ও স্বাধীনতার সুবর্ণজয়ন্তীতে শূন্যপদ পূরণে সরকারের এজেন্ডার অংশ হিসেবে এ নিয়োগ চলতি বছরের মধ্যেই শেষ করতে চায় এনটিআরসিএ। 

ইতোমধ্যে নতুন নিয়োগ বিজ্ঞপ্তি তৈরির কার্যক্রম শুরু করেছে এনটিআরসিএ সংশ্লিষ্টরা।
চতুর্থ গণবিজ্ঞপ্তিতে কত পদের বিপরীতে বিজ্ঞপ্তি দেওয়া হবে তা নিয়ে হিসাব-নিকাশ চলছে। তবে অর্ধ লাখ শিক্ষক পদের বিজ্ঞপ্তি হতে পারে বলে জানিয়েছেন সংশ্লিষ্টরা।

এ বিষয়ে এনটিআরসিএ সচিব ড. এ টি এম মাহবুব-উল করিম গণমাধ্যমকে বলেন, 'আশা করছি আগামী তিন মাসের মধ্যে চতুর্থ গণবিজ্ঞপ্তি প্রকাশ করা হবে। ইতোমধ্যে আমরা এ বিষয়ে যাবতীয় কার্যক্রম শুরু করেছি।

 
চতুর্থ গণবিজ্ঞপ্তিতে পদের সংখ্যা কত হতে পারে এমন প্রশ্নের জবাবে তিনি বলেন, 'তৃতীয় গণ নিয়োগ বিজ্ঞপ্তিতে ৮ হাজার ৪৪৮টি পদে কোনো আবেদন না পাওয়ায় এবং ৬ হাজার ৭৭৭টি নারী কোটায় প্রার্থী না পাওয়ায় মোট ১৫ হাজার ৩২৫টি পদে ফলাফল দেয়া সম্ভব হয়নি। এ পদগুলো চতুর্থ গণবিজ্ঞপ্তিতে যোগ করা হবে। আর এখন পর্যন্ত আমরা প্রায় ৩৫ হাজার শূন্য পদের চাহিদা পেয়েছি। বলা যায় সবমিলিয়ে আবারও অর্ধলাখ শূন্য পদে শিক্ষক নিয়োগের বিজ্ঞপ্তি দেয়া হবে। তবে এ পদের সংখ্যা কম-বেশি হতে পারে।'
Each applicant can choose multiple educational institutions when applying online. The applicant has to pay 100 Taka as application fee. However, the candidates who have completed the application will get the opportunity to pay the fee for the next 72 hours even after the stipulated time.
NTRCA 4th Gono Biggopti 2021 – 4th Public Recruitment Notice 2021
৪র্থ গনবিজ্ঞপ্তি -২০২১ : PDF Download
Number of Vacancy
Through the third public notification, NTRCA will recommend for the recruitment of a total of 54,304 MPO and non-MPO teachers across the country. Among them, there are 26,838 MPOs at school and college level and 4,263 non-MPOs including 31,101.
| | | |
| --- | --- | --- |
| Institutions: | MPO | Non-MPO |
| School and College: 31,101 | 26,838 | 4,263 |
| Madrasah, Technical, and Business Management: 20,996 | 19,154 | 1,842 |
| Reserve: 2,207 | 2,207 | N/A |
| Total Vacancy: 54,304   | 48,199 | 6105 |
NTRCA 4th Gono Biggopti 2021
A total of 20,996 people including 19,154 MPOs and 1,842 non-MPOs will be recruited for madrasa, technical and business management. Besides, 2,207 MPO registered teachers will be recruited in the reserved women quota. As per the directions of the Appellate Division of the Supreme Court, 2,200 posts will be left vacant and vacant posts will be filled in private educational institutions across the country.
How to Apply for Third Phase NTRCA Recruitment Cycle – NTRCA E-Application 2021?
The applicant must be registered with the NTRCA and have an integrated merit list. He should have the required educational qualifications as per the latest manpower structure issued by the Department of Secondary and Higher Education and the Department of Technical and Madrasa Education. Applicants must be 35 or younger by January 1, 2020. However, the age limit will consider for those who have passed the Teacher Registration Examination Index and those who have obtained Teacher Registration Certificate before June 12, 2018.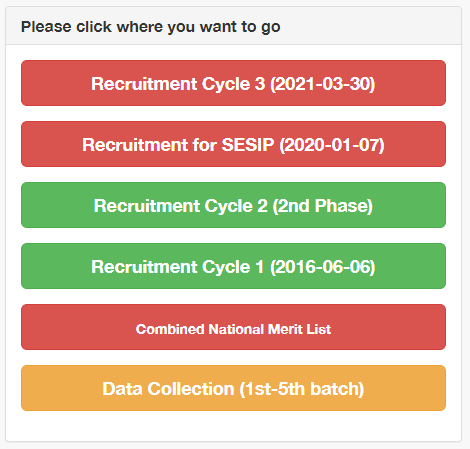 Click "Recruitment Cycle 4 (2021-03-30)" button.
Follow next step to apply online.
Payment after application complete.
Choice your desired school.
Pay 100 Taka via SMS.
That's all.
NTRCA E-Application 2021 http://ngi.teletalk.com.bd
Applications will accept through http://ngi.teletalk.com.bd or www.ntrca.gov.bd websites. You have to fill the form properly and submit it online. After submitting the form, the candidates will be informed about the next instructions including sending money by sending an SMS to their mobile. The application fee has fixed at 100 BDT. Candidates who have the interest in recruiting teachers can submit online application and fee within the stipulated time. You can apply by entering this link. The step of the online application procedure has given below:
First of all you need to visit the official website at http://ngi.teletalk.com.bd.
Then you need to click for the 4th Phase Recruitment Cycle.
After that, you have to apply for the recruitment.
You can choose multiple institutions from there.
After submitting online application form you have to pay the application fee of 100 BDT.
When the NTRCA 4th Gono Biggopti E-Application Online 2021 Starts?
Online application process for the 4th phase recruitment of NTRCA will start probably in November to December 2021. All NTRCA passed candidates can apply online according to NTRCA notice without 17th NTRCA candidates.
17th NTRCA Written Result 2021
Ashraf Uddin, chairman of NTRCA, told on Tuesday (March 30th) that a third phase of public notice has issued for the recruitment of teachers in the approved vacant seats in all private- non-govt educational institutions in the country. The notice has published on NTRCA's website on Tuesday as per the court order. However, they are not getting a chance in the recruitment as the 18th teacher registration test is going on, he said.
Conclusion
If you have passed in the NTRCA exam you have the opportunity to become a teacher across the country. This time a huge recruitment notice has published by the NTRCA authority. So if you have any question to know please comment below.